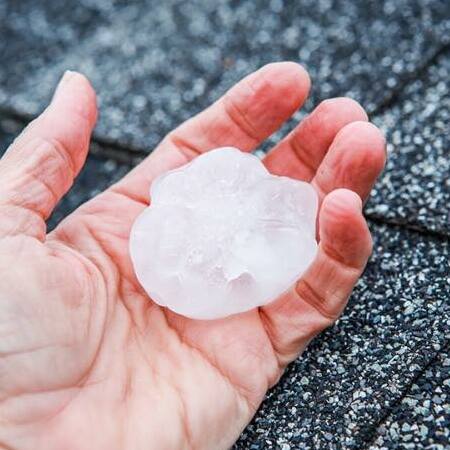 Let The Experts Help!
Although rainstorms can be a source of nostalgia and peace for many, the hail that occasionally accompanies said storms can be brutal. Even a small amount of hail—or hail that comes down in small pieces—can do damage to a home's roof, in addition to other areas of the house. Roof damage may come in the form of a series of small dents in an otherwise functional roof, or hail may tear through a roof's structure and create numerous dings dotting the top of a home. In either case, though, repairing the roof is an absolute necessity. If you are looking for a roofing contractor in the Mishawaka, IN area for hail damage repairs, be sure to call AJ Construction & Roofing at 574-674-4226 today!
Repairing After Hail
While it might not initially seem necessary to repair a roof after a hailstorm, especially if there are no visible points of entry for water, inspecting a roof after a hailstorm is important. Although water might not immediately begin entering the home, many homeowners find that their roof has become weakened, and water can begin to pool in any divots caused by hail. Even if you do not have any visible points of entry on your roof, or you do not see water collecting on your ceiling, it is in the best interest of you and your home to have a professional evaluate any possible damage. The professional in question could be a roofing contractor like AJ Construction & Roofing, or could be an insurance adjuster—in either case, inspecting for hail will make sure your home is not susceptible to damage as time goes on.
Signs of Damage and What to Do
Although it might be tempting to hop on the roof and evaluate any potential cracks or damages yourself, most homeowners are not properly trained and equipped to climb up and around the roof. Instead of trying to climb up and inspect your roof yourself, try and see if you can spot any signs of damage from the ground. Signs can include shingles that are cracking, splitting, or hanging down from the roof.
Once you have identified any possible issues or areas of concern, contact your insurance company and, if possible, a roofing contractor about hail damage repairs. If you are in the Mishawaka, IN area, contact AJ Construction & Roofing at 574-674-4226 for a quote or for more information on available services. Your insurance company is an important phone call to make, as they could help you pay for any damages sustained by inclement weather. Be sure to take any photos you can clearly identify what occurred, and what damages you see or suspect.
Next Steps
From there, you can contact a roofing company to come out and evaluate your home, before writing up an estimate. Although your insurance company might have its own protocol, many insurance companies will honor a written description of the services that need to be done, provided that the company in question is in some way accredited.
Roof Hail Damage Repair
Although hail damage might not be immediately visible to homeowners, having a professional assess the home is important, as hail damage can be difficult to detect—especially from the ground. Although a roof might not seem to be in danger of failing from the hail, hail can cause small, pinhole leaks in metal roofs, and can irreversibly damage the structure of a tile or sheet of shingles. Professional evaluation is an important part of assessing damage after a hailstorm and can reveal layers of damage that are not immediately visible. If you have roofing needs, contact AJ Construction & Roofing at 574-674-4226