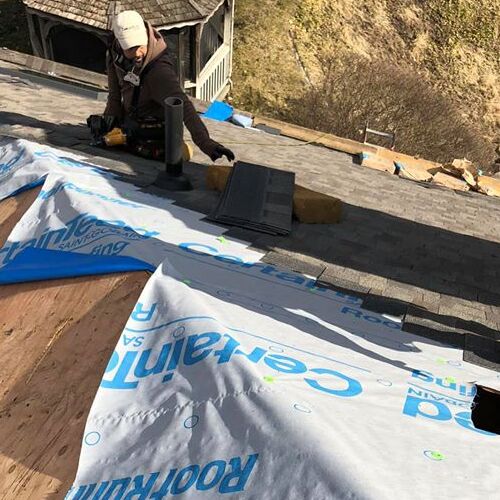 Quality Roofing Services
Roof installation practices vary based on current market trends, homeowner preferences, and emerging technology. Typically, homeowners are familiar with the three most popular residential roof installation options: metal roofing, tile roofing, and asphalt shingle roofing. Although there are other roofing types used in residential roofing, including shake roofing, many other roofing styles are largely out of practice in favor of more economical and energy-efficient options. Whatever the exact choice of roofing made by a homeowner is, roofs are most effectively and safely installed by a roofing professional, rather than being installed by a handy homeowner, family friend, or local handyman who is not trained in proper installation practices. If you are looking for a roofer in the Mishawaka, IN area for residential roof installation, call AJ Construction & Roofing at 574-674-4226 today!
What Warrants a New Roof Installation?
Many homeowners wonder what warrants an entire overhaul of a roof instead of a patch or series of repairs. The most common reason for a roofer suggesting a new roof overall instead of a patch or repair job is age. Although a properly-installed roof can last for 20-30 years, provided everything goes smoothly, after this point roofs need to be removed and replaced. As time wears on, exposure to the elements breaks down the components of a roof resulting in leaks, breakage, and general degradation of the roof's quality. When this happens, it is more cost-effective to simply replace the whole roof, rather than trying to keep up with a consistent series of breaks and damaged areas.
Roof Installation by Type
Installing a roof involves a similar process, regardless of type, as there are a few key components to installing a roof: evaluating the roof's needs, making necessary repairs, laying an underlayment, and installing the roof itself. Each of these steps is absolutely vital in making sure that a roof is installed properly and effectively fulfills all of its duties as the main point of protection for your home.
Residential Roof Installation: Metal Roofing
Metal roofing is typically installed on the top of a home through being affixed to rafters, or beams that make up the basic structure of a home's roofing system. Before the metal is affixed, however, roofers must first make sure the wood is properly installed and mounted, and evaluate any existing wood for decay or weakening, as a weak rafter can cause a metal roof to rip away in a wind storm. Once the roof's structure has been declared sound, we can place an underlayment on the rafters (usually a strip of felt or plywood) to form a moisture barrier, and conclude the installation process by screwing the metal roof to the rafters. Flashing is installed on the joints to prevent water from getting beneath the roof, and caulking may also be used on any potential points of entry, such as roof joints, flashing, and screws or bolts.
Residential Roof Installation: Shingle Roofing
While shake shingles (wooden shingles) were once in style, they have largely been replaced by asphalt shingles—the shingles most commonly seen on homes today. Asphalt roofing must also undergo a process of making sure the existing structure is able to withstand the re-roofing process. Once the structure has been cleared, however, asphalt roofing can diverge from metal roofing in terms of moisture barriers and installation. While metal roofing adheres directly to the rafters, asphalt shingles are installed on the underlayment, which is typically a type of sheathing or asphalt-soaked felt. This provides the surface area for the asphalt shingles to be installed upon. Shingles are then installed in overlapping layers, and each layer is fastened using a type of cement and roofing nails.
Residential Roof Installation
Regardless of the exact type of roof being installed, homeowners are encouraged to enlist the help of a professional roofing company, such as AJ Construction & Roofing. Provided that any type of roof is installed properly and maintained consistently, roofs can last from 15-25 years and is an investment worth making. If you are looking for a roofing contractor in the Mishawaka, IN area for residential roof installation, be sure to call AJ Construction & Roofing at 574-674-4226!