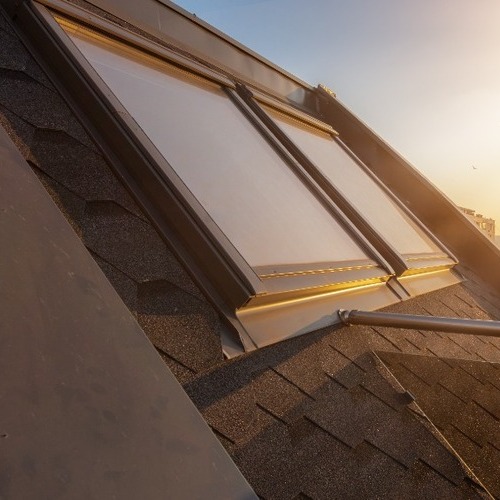 Restore Your Roof's Skylight
Your roof's skylight can be damaged in many different ways. Unfortunately, a broken skylight can be far more than an inconvenience. In some cases, it can be an emergency that requires immediate attention. If you have found yourself in need of skylight repair, our team of roofing professionals is available to provide all the help you need. For skylight repair in Mishawaka, IN or the surrounding area, just reach out to us. Call 574-674-4226 today to learn more about our services. 
Professional Skylight Repair Services
Some of the most common types of damage a skylight can experience are the result of poor weather. From sleet or hail to debris such as tree branches falling onto your roof because of high wind, various problems can arise. Other issues can come up as well, such as leakage due to a skylight that wasn't properly installed. 
There are many signs of skylight damage that you can watch out for to ensure you get the skylight repair you need if a problem does occur. Any visible damage such as a crack in the glass of your skylight is something in need of immediate attention. Likewise, if you are experiencing a leak from your skylight, reaching out for a skylight repair right away is always recommended. This is because water intrusion can lead to many other kinds of damage to your roof as well as your home. 
Some signs of skylight damage are much more subtle, and it is always a good idea to watch out for these issues as well. One common indicator of a problem with your skylight is an obvious draft. Meanwhile, areas of discoloration on your ceiling around the skylight can indicate a leak even if there aren't any other obvious signs of leakage.
We are ready to lend a hand regardless of the kind of problems you may be experiencing with your skylight. These services are all a part of our commitment to ensuring you have the help you need with your roofing system to keep everything in the best shape possible.
Get in Touch With Our Team
Our team can be there to provide the skylight repair services you need in any situation. We offer these as a part of our wide range of roof repair services and emergency roof repair services. If you need skylight repair in Mishawaka, IN or the surrounding area, we are ready to lend a hand. Give us a call at  574-674-4226 to schedule your services.