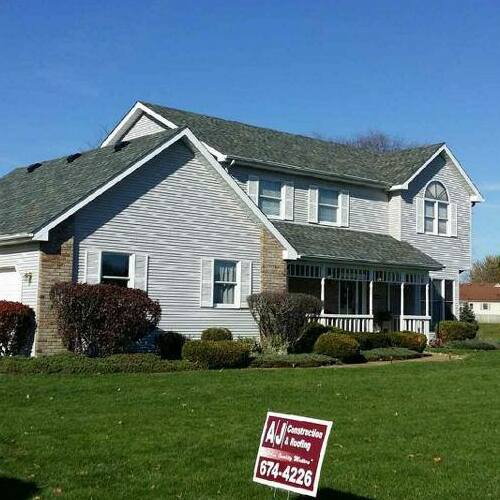 A Company With a Great Reputation
Small companies are just as viable for use in residential roof replacement or repair, provided that they have a customer base that is pleased, or they have a pleasant reputation with other roofers, homeowners, contractors, and more. Our company is focused solely on ensuring each and every person we work worth is satisfied with both the work that we do and the interactions we had with them. If you are looking for a trusted, reputable roofer in the Mishawaka area for roof repair services, call AJ Construction & Roofing at 574-674-4226 today!
Choosing a Roof Repair Company
Choosing a residential roof repair company involves a few factors. While many homeowners focus entirely on the possible cost of roof repair services, there is far more to replacing or repairing a roof than simply estimating the price. When choosing a residential roof repair company—for simple roof repair or an all-out roof replacement—there are a handful of considerations to take into account. These include:
The reputation of the company
The presence of past client reviews
How well-established the company is
What protection the company has in place
What protection the company offers
When the company expects payment for services rendered
To find a company's reputation and reviews, first, ask around. Neighbors, friends, and even local social media groups might be able to give you an idea of how the company operates and can provide insight into the company's past with clients, and can reveal any bumps in the road, or any questionable moves the company has made.
Is the Company Well-Established?
There is something to be said for an up-and-coming company without a large customer base. These companies are often eager to prove their name, and might offer special discounts in exchange for marketing (a social media review, a sign in the yard, etc.), or might undercut their competition in some way, in order to garner more clients and create a loyal customer base.
Some homeowners, however, feel far more comfortable using a company that has been around for quite some time, like AJ Construction & Roofing,
as these companies are more thoroughly established, and have more history and customers with which to reassure new clients. With our history, we have a reliable base of customers that have greatly benefited from the work we have done in the area! If you are looking for a well established and highly thought-of roofing company, we are the team to call.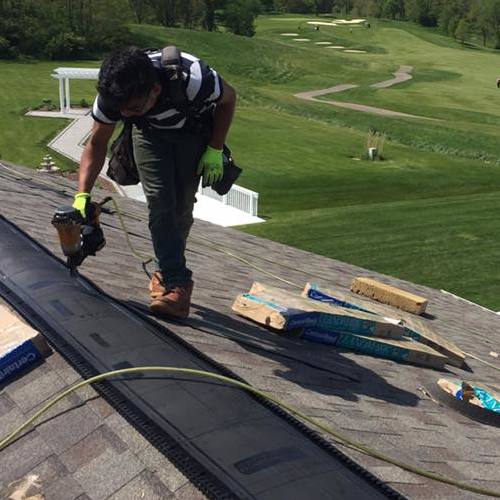 Company and Client Protection
A reputable roofing company will have insurance for themselves and a form of work assurance, such as a warranty, or a work guarantee. A company's insurance is essential, in case the company experiences unexpected delays, difficulty securing employees or materials, or a worker becomes injured while completing the repair. If your roofing company does not have insurance, the cost of all of these expenses could fall on your shoulders, which will add a substantial amount to your initial cost. Client protection is also necessary, as it allows you to call the company if something is installed incorrectly, or the roof fails soon after it is installed. If, for instance, there was an oversight at a joint in the roof, and water begins pouring in during a rainstorm, you should be able to contact the company to come out and repair the issue without having to pay out of pocket (provided the issue is, in fact, an oversight by the company). If you work with us, you can rest assured that we have covered our bases and will take care of you in any of these circumstances.
Company Plan and Payment
Any company that offers you a quote on roof repair in Mishawaka, IN should offer a final plan in writing. This protects both you and the company, should anything go awry in the process of roof repair or replacement. If you and the roofing company agree on a price, and the company then begins making a series of additional charges, a written contract will ensure that you are not suddenly saddled with a host of unexpected expenses. The company, too, is protected by a formal, written contract, as it means clients cannot demand additional work without an increase in price.
Similarly, a client should never be expected to pay the cost of the roof repair or roof replacement prior to the work actually being completed. After all, if the client pays before the work has been completed, there is not much keeping the company from leaving without finishing the work. Any company that demands up-front payment should be avoided in favor of a company like AJ Construction & Roofing. We are devoted to transparency and standard roofing practices. You can depend on us to be your trustworthy and honest roofer!
Selecting a Roofer
Choosing a roofing company in Mishawaka, IN is a big decision. Repairing or replacing a roof is a big investment, and is not something to take lightly. The wrong roofing company can cost homeowners thousands of dollars, while a reputable one can mean 10-30 years of a dry, well-functioning roof. We are the team you should call if you are looking for a dependable roofing company that prioritizes the customer over all else! For information on pricing and roof repair services, contact AJ Construction & Roofing at 574-674-4226.