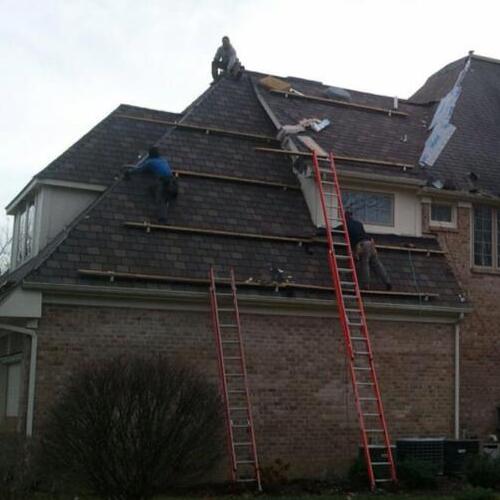 Roofing Experts
Asphalt shingles are arguably the most well-known residential roofing option and are easily viewed driving through most modern neighborhoods. Although asphalt shingle roofing makes for an excellent source of protection for homes, these shingles can still sustain damage from a host of things, including wear over time, intense storms, and simple user error. Fortunately, asphalt shingle repair is often a simple enough task—a task that may not require much time or money to complete. If you are looking for reliable asphalt shingle roofing in Mishawaka, IN, contact AJ Construction & Roofing at 574-674-4226!
DIY Versus Professional Help
Although some homeowners may be tempted to fix asphalt shingles on their own, due to the seeming ease of repair and low cost, there are distinct advantages to having a professional complete asphalt shingle replacement and repair:
Warranties: A professional can offer a warranty on all completed work should something go amiss, while a DIY fix has no guarantees or recourse.
Peace of Mind: Although plenty of homeowners are savvy in the ways of home improvement and simple repairs, a roof is one of the most important parts of a house, as it is responsible for keeping weather, water, and other natural elements firmly outside of the home. Having a professional fix any roofing problems offers greater peace of mind about the safety and stability of the roof.
Professional Evaluations: While a single shingle might appear to be the only issue, there could be structural damage or additional aspects of the roof that need to be repaired. A roofing professional will be better equipped to handle a thorough evaluation and diagnosis, of sorts, of the roof's condition.
Asphalt Shingle Repair and Replacement
While asphalt shingles often seem simple and easy enough to fix without the help of a professional, fixing a broken shingle yourself may have some drawbacks. When dealing with your roof, it is always recommended to work with a professional instead of relying on yourself. If you live in the Mishawaka, IN area and find yourself in need of asphalt shingle roofing, contact AJ Construction & Roofing at 574-674-4226 for more information, such as pricing, services, and availability.